This is the introduction of Marc Giget during his presentation to the Paris Club of Directors of Innovation of his vision 2018-2020 and prospective 2030. As a member of the Academy of Technologies, he will brush us the major trends in innovation that are looming for the coming years.
The tone is given with a "it moves seriously" followed with equal ease of a quote from Georges Soros at the last Davos "some companies are already dead and they do not realize it". Associated with the vision of world transformation and necessary adaptation for companies, Marc Giget argues that the innovation function has its role to play in this management of the transformation that is played out in the medium term to counteract the productivist and short-term vision termist of the marketing function.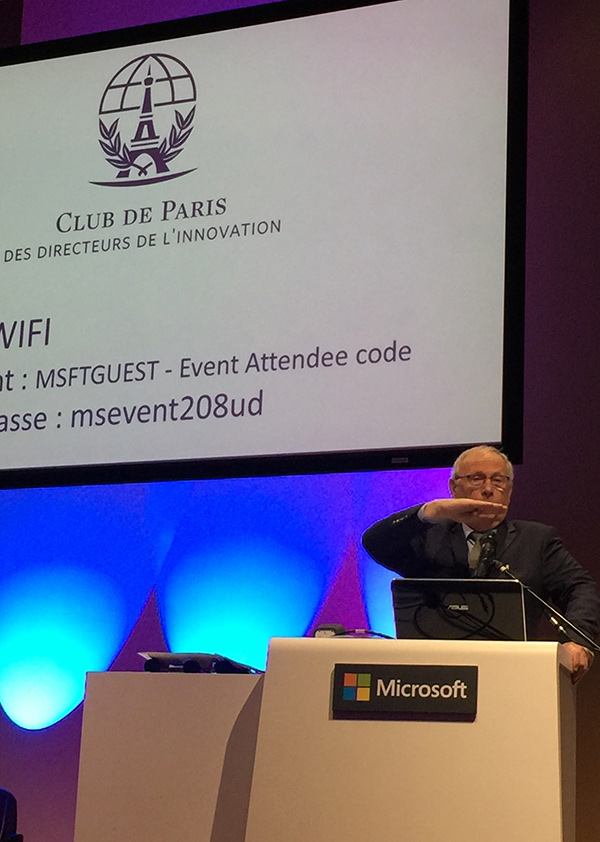 My insights into the evolution trends of innovation presented by Marc Giget:
1) The innovation strategy tends to be integrated into the corporate strategy, which implies a new governance and a merger between strategy and innovation management (RATP, EDF, Danone, LCL, Allianz France, etc.). )
2) Innovation becomes global, beyond the technique by resorting to multiple alliances, joint ventures … Thanks to this effect, the revival of the automotive and aerospace industry is witnessing. Valeo is a good example.
3) Total innovation is innovation all together, the Human Centric side of innovation gives a part to play for HR who have more or less difficulty getting started: risk management, better cooperation, innovation participatory …
4) Humanistic innovation reframes innovation in its goal of progress … The advertising trend of "innovation for a better life" is a reflection … To everyone to identify what is beyond the story telling!
5) Inclusive innovation is developing, linked to a goal of progress, it is in addition to leaving the purely consumerist innovation with new offers of innovative products, cheaper, accessible to the greatest number.
6) Design together, co-innovating with users, design with users, or design thinking, is a rising trend with today 54% of the leaders who affirm as important the implication of the users from the phase of ideation (Innovation Benchmark 2017)
7) Accelerating the digital transition is an issue for all companies, both in internal transformation and in the definition of new products and services; the Innovation Director is of course affected and has to play his role of piloting with the experts of internal technologies, the trades and the personnel concerned.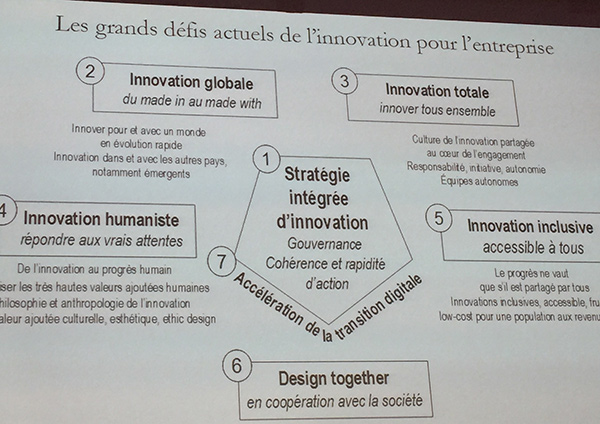 We are witnessing a stimulation by the new players, the GAFA, which is forcing a redefinition of services, as Accor and G7 have done with success.
Digital is a source of innovation of all types, incremental and disruptive, as many opportunities for innovation in the coming years.
See you at the "National Encounters of Innovation" on June 14th to see how these strategic trends of innovation are concretely actualized!
https://www.sylviebremond.com/wp-content/uploads/2018/04/innovation-enjeu-strategique-1.jpg
842
600
sylvie
http://www.sylviebremond.com/wp-content/uploads/2018/04/logo_innov2-1.png
sylvie
2018-04-04 01:10:34
2018-06-07 15:58:39
« Innovation has become a strategic issue for everyone » Marc Giget