Bolstered by its popular 2017 tour, the INNO.BUS is back again this year, ready to set off on an 8,000-kilometer journey to visit 15 Total Refining & Chemicals industrial facilities, from September 29 to October 19.
The aim is to promote innovation across Refining & Chemicals sites, from Southern Europe to Northern Europe and the United States. Teams can learn about existing innovations that could be deployed at their workplaces and charge their innovative spirit.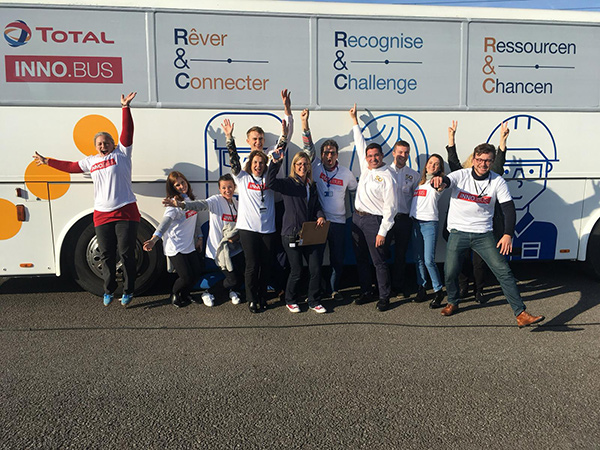 Innovation is integral to Total and a key competitive driver.
"The pioneer spirit is in our genes. It's in our ability to innovate in every area,
from technology and marketing to people management, strategy and geopolitics."
Patrick Pouyanné, Chairman and Chief Executive Officer of Total
INNO.BUS is part of INNO.DAYS, a Total-wide celebration of innovation. More generally, it is in line with Total's overarching effort to encourage innovation and speed up the emergence of new businesses, products and ways of working (booster, challenge Argos, plant 4.0, etc.).
Each stopover will be an opportunity for the site's employees to delve into the various types of innovation at Total, especially those related to manufacturing and production activities, which are evolving toward augmented operators and Refinery 4.0.
https://www.sylviebremond.com/wp-content/uploads/2018/10/innobus-retour-2.jpg
450
600
sylvie
http://www.sylviebremond.com/wp-content/uploads/2018/04/logo_innov2-1.png
sylvie
2018-10-05 00:15:59
2018-10-05 00:16:18
The TOTAL INNO.BUS is back!