To offer or comment for those who are constantly complaining about the evolution of the world…
This little manifesto, written on a bloody shot, by the author of Thumbelina, angry with all the Grumblers Grand Daddies, Michel Serres.
Offered first to any buyer of two Michel Serres paperbacks, in the front of the enthusiasm, the publishing house (The Apple Tree) has decided to publish it in the form of a very small book: "Ten Grumblers Grand Daddies keep telling to Thumbelina ,unemployed or trainee who will pay a long time for these retirees: "It was better before".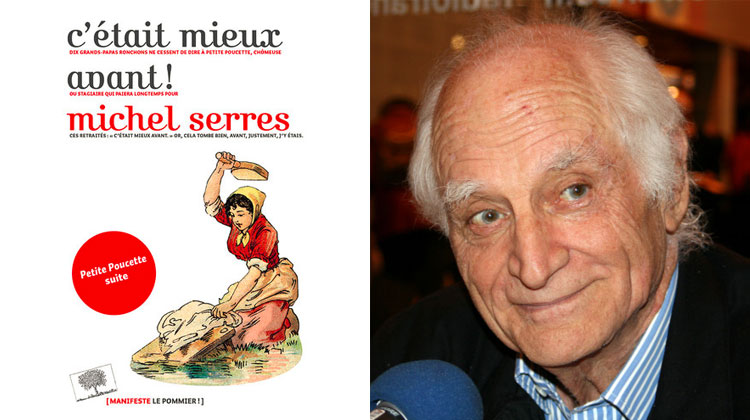 « This is good, before, precisely, I was there » … can claim Michel Serres.  «  I can draw up an expert report that starts : before, we were ruled by Franco, Hitler, Mussolini, Stalin, Mao… That good people, before, wars and state crimes behind the head of millions of deaths. Result of these festivities will edify you. "
What a beautiful ode to progress with this look in the mirror of a fine observe: the conditions of hygiene, food, work, the condition of women, children… Beautiful, fair, objectively analyzed arguments to nail everyone who has not entered the new world and who would like to prevent us from innovation coming forward, progress and humanity!
https://www.sylviebremond.com/wp-content/uploads/2017/12/mieux_avant_innovation_creatrice_progres.jpeg
420
750
sylvie
http://www.sylviebremond.com/wp-content/uploads/2018/04/logo_innov2-1.png
sylvie
2017-12-27 16:52:26
2018-06-07 16:04:41
« It was better before » or innovation for progress!